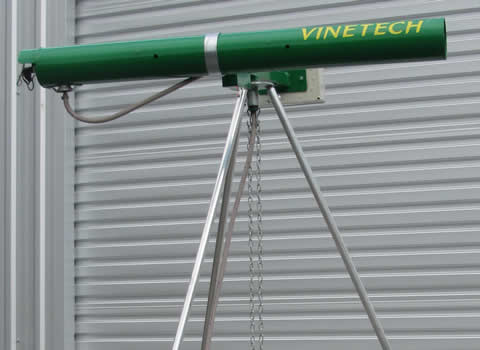 Electronic Control
The Vinetech Birdscarer is controlled by programmable electronics requiring little or low maintenance, housed in a robust weather-proof box.
Our birdscarers give customers the option of a light sensor or digital timer operation
The light sensitive on-off switch ensures the unit operates only during the hours when birds are active and can be fine-tuned to suit individual situations.
Our birdscarers now have a digital timer fitted in the control box to give specific on-off times which some situations do require. This was only optional in the past.
The unit is powered by a 12v rechargeable battery which is supplied together with a charger.
We stock all parts, offer a full workshop service and backup for Vinetech products.
Variable Random Firing
To prevent birds becoming accustomed to regular timed shots, the Vinetech fires groups of shots at random intervals, and can be adjusted to fire from 3 to 40 shots per hour.
Shots per group can also be random.
Great Sound Distribution
The Vinetech birdscarer is mounted on a 2m high tripod and turns with each shot to fire over a 360o arc so that noise distribution is maximised.
Integrated Design
The Vinetech birdscarer is designed for use with a 9kg gas bottle, suspended from the centre of the tripod which stabilises the whole unit. Tripod legs fold to enable to units to be easily moved without having to remove the legs which are also adjustable for height.
Local Council Compliant
Because of the large selection of shot options available and the adjustable gas regulator, shots per hour and decibel levels can be selected to comply with most Council directives.
The digital timer allows setting of specific on/off times to comply with Council requirements in some areas.
Reliability
As each Vinetech birdscarer is individually hand made and thoroughly tested prior to packing, we enjoy a good reputation for reliability.
Vinetech Advantages
Reliability. Thoroughly tested before packing Our parts and labour warranty guarantees value for money.
Light sensor and/or timer control
Selection of power supply options
Volume and frequency adjustable to meet local body rules
360 degree arc, greater sound spread
Locally designed and made for local conditions
Random firing